Q:"How to merge 4K videos files into a complete video file? I have recorded multiple family video clips with my Canon EOS C500. I want to join these clips to make an unique video as a birthday gift for my wife. Is there any 4K video joiner to recommend?" - Quora
When you have the need of combining 4K videos into a whole one, you have to seek for a professional 4K video combiner software to assist you in realizing it. Even though from the increasing demand for video combining come an extensive range of video joiners, many of them fail to work with 4K videos. If you have yet to find a proper joining tool, you might as well give the 2 software recommended below a try.
Part 1. What Is 4K Video
Before merging 4K video files, let's have a rough understanding of this video format. 4K video, as its name suggests, is a kind of high-definition video with a horizontal display resolution of approximately 4,000 pixels. In other words, the image definition of 4K video is more than four times as high as that of 1080p video. It is noteworthy that the horizontal resolution of 4K video can not be changed. Supposing that you want to adjust aspect ratio, you could only do by changing vertical resolution.
Part 2. Joyoshare Video Joiner Merges 4K Video Files
Joyoshare Video Joiner (for Windows and Mac) is a free-to-try and professional video joining software on desktop. It can even be said that it is the best 4K video joiner among similar programs. How so?
In the first place, it has good compatibility and quick transformation. More concretely, it not simply works well with a large number of file formats including 4K video, MP3, MP4, M4V, M4A, MKV, MOV, AVI, OGV, 3GP, FLV, FLAC, AAC, HD, DVD, and so on, but also quickly converts them to all sort of file formats and even device-compatible formats.
In the next place, it offers two merging modes to flexibly combine 4K videos according to different requirements. For instance, if lossless consolidation of 4K videos is required, then high-speed mode is for you. If there is the need for editing and merging 4K videos, the encoding mode is for you. In the last place, Joyoshare Video Joiner comes with a compact user interface. It doesn't require any professional skills.
The Advantages of Joyoshare Video Joiner
Can extract audio from any video with ease
Enable users to batch input video/audio files
Merge 4K videos files without damaging video quality
Not only joining but also cutting and editing can be achieved
Support various formats and almost realize the full compatibility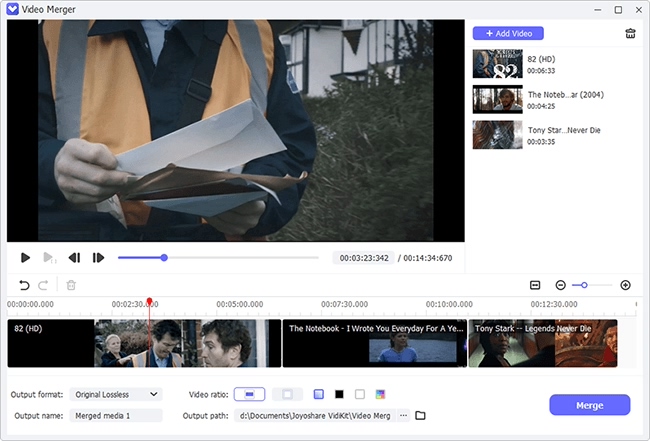 Step 1

Import 4K videos to Joyoshare Video Joiner

From Joyoshare website, download and install Joyoshare Video Joiner on your computer. After opening it, click the icon in the lower-left corner to choose 4K video files from your local file folder. Of course, you are also able to fast drag them into the program.

Step 2

Choose a merging mode as demanded

Click "Format" to select a proper merging mode. Joyoshare Video Joiner provides two joining modes - high-speed mode and encoding mode. The former can merge multiple 4K videos at 60X speed with the original video quality. The latter supports editing videos like trimming, rotating, changing aspect ratio, add subtitles and watermarks, include visual effects, etc and customizing video parameters like bit rate, frame rate, resolution, codec.

Note: under the high-speed mode, only videos of the same format can be merged. Also, you can just choose the same format as the original video format to be the output format.

Step 3

Cut 4K videos when previewing

After determining a proper merging mode, please go back to the main interface by clicking on "OK" button. Next, you could click to preview each 4K video in turn. If you are not content with some sections in the clip, just slide the timeline to delete it. Afterwards, rename and reorder these 4K videos as your preference.

Step 4

Edit 4K videos under encoding mode

Before merging, users who select the encoding mode to combine 4K videos have the ability to enhance and polish these videos by adjusting aspect ratio, inserting subtitles, creating image/text watermark, adding special effects, and more. Notably, the quality of merged video in the encoding mode will be slightly compromised due to the transcoding process.

Step 5

Begin to merge 4K videos

The last thing to do is touching the "Convert" button in the lower right corner. Then, Joyoshare Video Joiner will start the merging process. When it is done, the file folder storing the merged 4K video will automatically pop up on the screen.
Part 3. Pavtube Video Converter Ultimate Combines 4K Videos
To provide greater choice to join 4K video files together, this section will present another technical 4K video joiner - Pavtube Video Converter Ultimate. It is an all-in-one video joining program for Windows that supports many formats, such as DVD, H.265, MKV, MOV, AVI, M4V, FLV, camera's 4K, 4K AVCHD, and so on. Besides as a video merger, it can also be used as a converted and editor. With it, you are allowed to convert your 4K videos to other formats and trim or crop them as required.
A stepwise guide on how to merge 4K video files using Pavtube Video Converter Ultimate: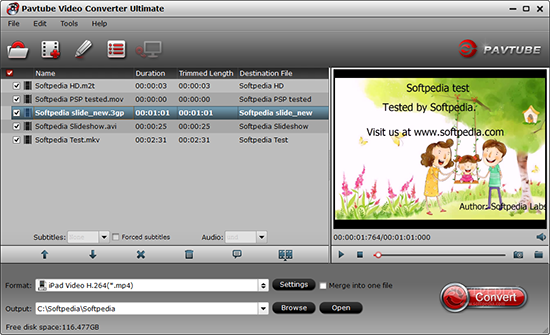 Step 1: After downloading and installing Pavtube Video Converter Ultimate, please launch it on your Windows computer. Next, drag your 4K video files to the program. Alternatively, head to "File" - "Add Video/Audio" - "Add from Folder" to upload 4K videos. If needed, click an arrow icon to rearrange these uploaded 4K videos;
Step 2: Then, tap on "Format" to open a window of the output format. Notably, this software just outputs video in MP4 and MKV with 4K resolution in H.265 codec. So, if you want to merge these 4K videos into a whole video with the original resolution, please choose "HD Video" - "HD MKV Video" or "H.265 MP4 Video". Next, click "Settings" to set the video codec to x265 and the video size to 3840x2160. Of course, if you don't require the merged video to keep the 4K resolution, you can choose any output format;
Step 3: Afterwards, return to the first interface, in which you ought to select an output direction and check "Merge into one file". Lastly, press on "Convert" to combine your 4K video files. Once done, locate the merged video in the local file folder.