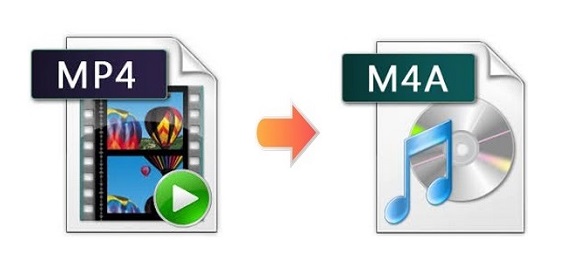 If you tend to extract the audio track of an MP4 video to save the storage space of your device, you could choose M4A format. It is a filename extension of audio-only MPEG-4 files. An interesting fact is that MP4 stands for MPEG-4 Part 14. So to tell the truth, M4A and MP4 have something in common. Therefore, if you choose the right video converter, it will be not difficult to convert MP4 to M4A. In the following parts, we will show you 3 online and offline amazing video to audio converters for both Windows and Mac. Later, we will discuss whether it is really practical to change MP4 to M4A by changing the filename extension directly.
Part 1. How to Convert MP4 to M4A Losslessly - Joyoshare Video Converter
Joyoshare Video Converter is the most comprehensive video converter for Windows and Mac operating systems. It is able to convert videos to no less than 150 formats. Included are MP4, MP3, OGG, M4R, MPEG, DV, M4V, WebM, AVI, FLV, AAC, and more. Featured with 60X conversion speed, this program is able to perform batch conversion faster and better than any competitor.
Doing more than its name suggests, this program has a built-in editor that enables you to customize your videos and audios in a couple of clicks. You have been provided with a wide range of options. For example, you can rotate/crop/trim videos, insert image or/and text watermarks, apply video/ sound effects, etc.
Key Feature of Joyoshare Video Converter:
Convert M4A to MP4 and vice versa
Preserve original quality after conversion
Export video files to various formats and devices
Be able to cut MP4 and save a certain part as M4A
Merge several clips into a new file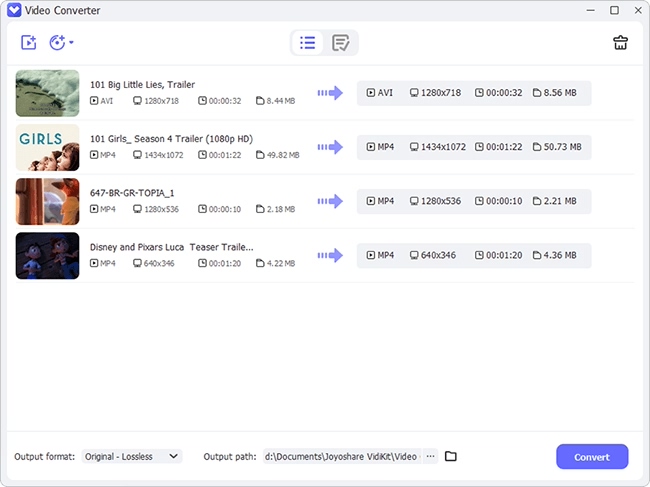 Step 1

Add MP4 Files to Joyoshare MP4 to M4A Converter

Download and follow the on-screen instructions to install Joyoshare Video Converter. Launch it and press the "Add Files" button to add the MP4 files to be converted. You can also directly drag and drop several MP4 files simultaneously to the program.

Step 2

Designate M4A as Output Format

To save converted files into M4A format, you are ought to tap the Format button at the main screen first. Then choose either the high-speed mode or the encoding mode. After that, you can select M4A format under the "General Audio" tab.

Note: You are allowed to use the high-speed mode to convert MP4 to M4A losslessly. If you choose the encoding mode, you are free to adjust the audio codec, channel, bitrate, sample rate, and do some other simple audio editing.

Step 3

Edit M4A Files If Necessary

Given that you prepare to convert an MP4 file to M4A audio, you can selectively use some editing functions. For instance, you can use the trim markers together with the "scissor" button to split your M4A files. You are also able to adjust the volume/weight of the audio, add special sound effects, etc.

Step 4

Convert from MP4 to M4A

If you have loaded several different files, you are free to press the "Merge all into one file" to combine them. In the final place, hit on the "Convert" button to begin converting.
Part 2. How to Convert an MP4 to M4A - Vidmore Video Converter Vidmore Video Converter is a popularly used MP4 to M4A converter. You are allowed to use it to convert MP4 to M4A, MP3, FLAC, AAC, etc. As this converter has no file size limitation, you are able to extract the audio track from any MP4 video and save it into M4A format easily and quickly. Besides, this software offers more than 100 presets for iPhone, iPad, TV, Sony PlayStation, etc.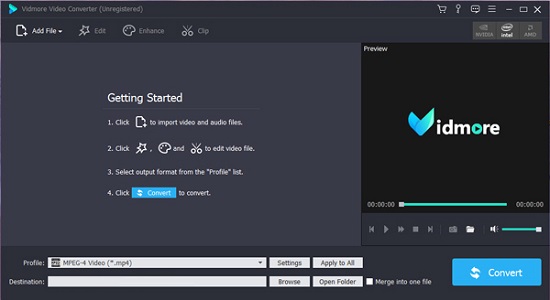 Step 1: Run the program on your computer and click the "Add File" button to import your MP4 videos;
Step 2: Unfold the "Profile" dropdown list near the "Settings" button to choose M4A format under the "General Audio" tab;
Step 3: Hit on the "Convert" button to begin to convert from MP4 to M4A.
Part 3. Convert MP4 to M4A Free/Online - Online Converter Online Converter is a versatile and multipurpose online MP4 to M4A converter tool that has powerful features and fast conversion speed. This free web-based service supports various units of measurement and files. You are allowed to convert images, e-books, audios, videos, documents, etc. to another file format. Being Simple and easy-to-use, online converter enjoys extensive popularity now. Be aware that the maximum file size it supports is 200 MB.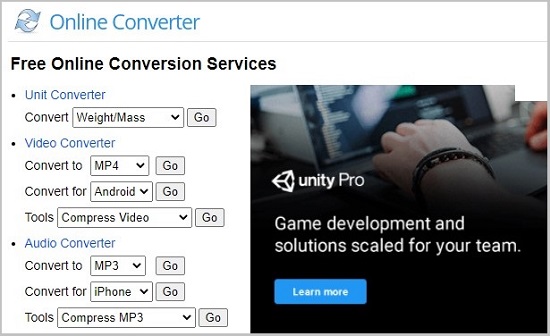 Step 1: Open mp4-to-m4a;
Step 2: Click the "Source" button to upload MP4 videos from computer or a URL;
Step 3: Press the "Convert" button to begin to convert MP4 to M4A.
Answered: Does changing filename extension work?
You may hear from others many times that one can change the filename extension directly if he wants to convert MP4 to M4A. But is it true? Before we continue, it is worth mentioning that most media players nowadays would recognize and play a file through the media data it contains rather than its filename.
To give an example, if you have an MP4 video, and change ".mp4" to ".m4a", when you try to play it on JoyoPlayer, Windows Media Player, or VLC media player, you can still hear the audio while watching the video. Most importantly, when you check the file sizes of the two files (one is the MP4 video you already have, and the other is the M4A file), it turns out that they are almost the same.
However, if you use Joyoshare Video Converter to convert MP4 to M4A, you would find that the file size of the M4A file is much smaller than that of the MP4 video. What's worse, if you have an MP4 player as well as a collection of MP4 videos, but you intend to save them into M4A format because you only want the audio parts, adjusting filename extension makes no difference, except the consequence that too much storage space will be wasted. To sum up, changing the filename extension actually doesn't work as you expect.