Q: "The error message I get is 'Apple ID has been disabled'. I have called Apple three times and have not gotten in touch with anyone from Apple iTunes to correct this issue. But it still says Apple ID disabled. Who can help me?" - Anonymous
Is your Apple ID disabled? You might receive an alert message named "This Apple ID has been disabled for security reasons". Don't worry, you are not the only one who encounters such an annoying issue. As a matter of fact, if you enter the wrong Apple ID password and security question too many times, your Apple ID will be automatically disabled because of triggering the protective mechanism. However, for users who set the password and security question long ago, it's difficult to find back the correct details. Luckily, this article will discuss some effective solutions which are tested and trusted by a large number of iOS users.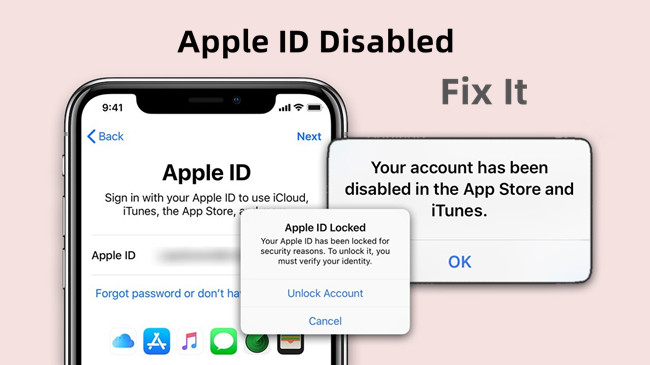 Part 1. FAQs about Disabled Apple ID
Q1: What does Apple ID disabled mean?
A: It means that your Apple ID is forbidden to use within a period of time. Apple sets strict detecting procedures to protect account security, so you are not allowed to sign in to your account on App Store or iTunes. When your Apple ID is disabled, you can't access Apple services, like iCloud, App Store, Apple Music, Apple Book, etc.
Q2: How can I tell if my Apple ID is disabled?
A: If you are alerted by the prompt showing the following message, your Apple ID is disabled.
This Apple ID has been disabled for security reasons
You can't sign in because your account was disabled for security reasons
This Apple ID has been locked for security reasons
Q3: Why is my Apple ID disabled?
A: Generally speaking, there are three main causes leading to disabled Apple ID.
You enter an incorrect password or mistakenly answer security questions too many times in seconds.
Your Apple ID has not been used for years. While Apple ID aims to access various features provided by Apple, it might raise the warning line and get disabled at times.
You probably change Apple ID and password frequently. Apple may regard your actions as a kind of security threat by mistake.
Part 2. Troubleshoot When Apple ID Has Been Disabled
Way 1. Check Privacy Restrictions and Payment
If you have enabled Screen Time on your device, and set up restrictions for iTunes and App Store, then the Apple ID might be disabled when you try to purchase an app. Thus, it is advisable to check the privacy restrictions on your iPhone. Just go to Settings → Screen Time → Content & Privacy Restrictions → iTunes & App Store Purchases. Here you can tick the Don't Require option, and allow the in-app purchases, as well as, apps downloads and installations.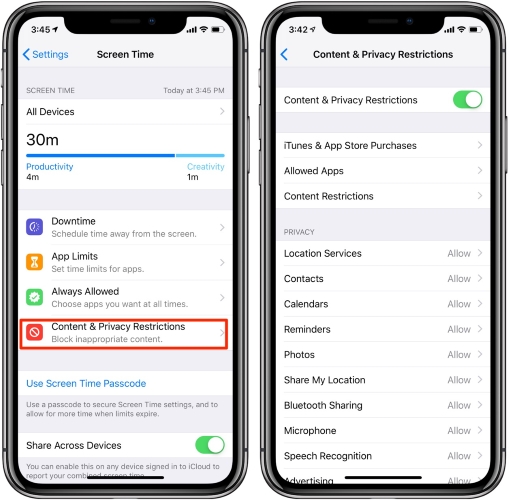 Besides, any unpaid bills or expired payment methods could affect your Apple ID. Thus, you need to check if there is an unpaid bill by going to Settings → Apple ID → Media & Purchases → View Account → Purchase History. If unpaid bills exist, pay them. After that, head to Apple ID → Payment & Shipping → Payment Methods, and change to a new credit card.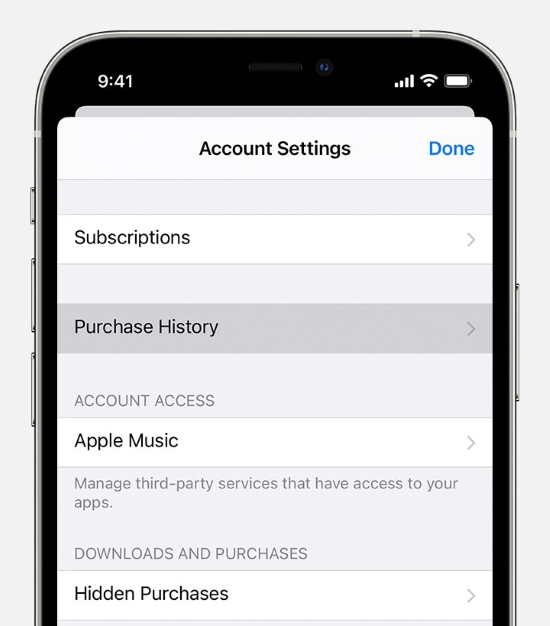 Way 2. Sign Out of Apple ID and Sign In again
Once across the Apple ID disabled problem, you could try to sign out of your account from your device to refresh your Apple ID because it might result from a temporary glitch. Navigate to Settings, tap your profile, scroll to the Sign Out option, and enter your password to log out. Wait for a while, sign in with your account again to see if it works fine.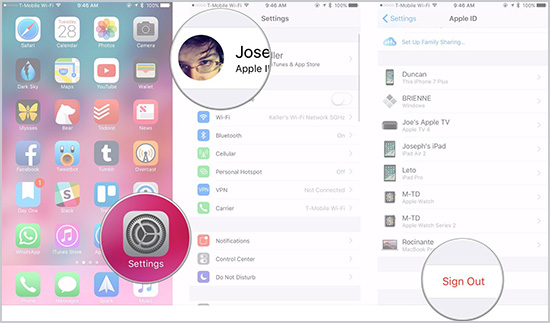 Way 3. Change Apple ID Password
The main cause of Apple ID becoming disabled could be multiple wrong Apple ID password. Now that you might forget the former password, resetting your Apple ID is the simplest way when you run into such an issue. Apple offers many ways to reset your Apple ID, below are how to change password on Settings and the iForgot page.
Chang Apple ID Password on Settings

Step 1: OPen Settings, tap Apple ID and select Password & Security.
Step 2: Tap Change Password, enter your screen passcode and create new Apple ID password.

Reset Apple ID Password on iForgot Page

Step 1: Navigate to "iforgot.apple.com" on any browser.
Step 2: Enter your Apple ID and get started with the "Continue" button.
Step 3: Complete your phone number and select a way to recieve the verfication code.
Step 4: Enter the verification code and reset your Apple ID password.
Way 4. Remove Apple ID Without Password
Wonder is there a quicker way to fix it when Apple ID account has been disabled? A perfect tool called Joyoshare iPasscode Unlocker is provided for you. As a pioneer in passcode unlocking on all iOS devices, it has been devoted to helping users remove Apple ID without data loss, bypass MDM, remove screen lock, and delete screen time passcode. With the integrated features, this tool enjoys high reputation among a wide range of iOS users. Furthermore, it is compatible with iPhone, iPad, and iPod touch as well as works with the latest iOS and iPadOS. No matter whether your Apple ID is locked for security reasons, Apple account becomes unavailable or it is hacked by others, Joyoshare iPasscode Unlocker has the ability to unlock your Apple account safely in 3 steps
Key Features of Joyoshare iPasscode Unlocker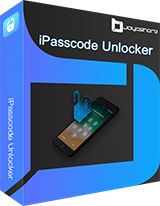 Remove Apple ID/MDM/screen lock/screen time passcode effortlessly
Guarantee the highest success rate
Everyone can operate it and solve problems within 3 steps
Quick removal speed saves your time and eases your pain
Step 1

Connect Device to Computer

First of all, download and install Joyoshare iPasscode Unlocker from the official website. Then launch it and connect your device to your computer. Select "Unlock Apple ID" feature and hit the "Start" button.

Step 2

Check and Confirm the Device Status

If Find My feature is disabled, directly proceed to the next step with the "Next" icon. You won't lose any data on your device.

If Find My feature is enabled, you need to ensure that you have set the screen lock and turned on the Two-Factor Authentication on your iDevice first. After that, click the "Yes" button to confirm the device status.

Step 3

Remove Apple ID Perfectly

Check the device information and click on the "Download" button. It will download the suitable firmware package and start to remove Apple ID. The whole process will be finished within a few seconds.
Way 5. Contact Apple Support
If your account has been disabled in the App Store and iTunes Store, you are required to verify your identity so as to confirm that you are the owner of this Apple ID account. The quickest and easiest way is to contact Apple support directly. Search for "support.apple.com" and there are two options available to contact Apple. You can call Apple and chat with them online. You might be required to wait for the call and communication when Apple staff is at leisure.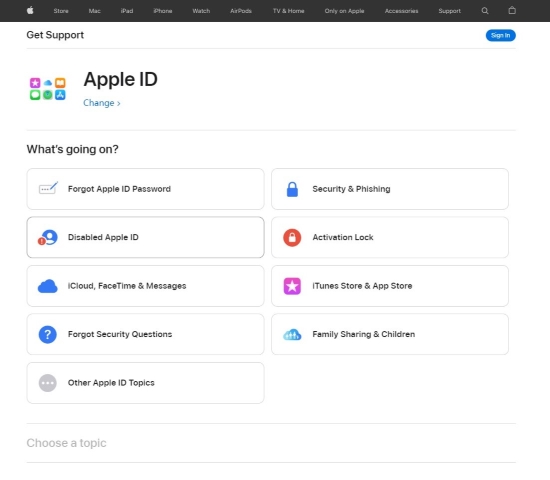 Part 3. Conclusion
The methods offered in this article can assist you when your Apple ID disabled. The time and patience you pay for this article will return unexpected harvest. You are encouraged to try the solutions one by one. If the phone number, email address, security questions are still available, undoubtedly, resetting password is the most ideal way. Nevertheless, most users have trouble remembering them. On this occasion, Apple can give you a firsthand favor and quickly overcome the issue. If you have tried them and the problem still persists, Joyoshare iPasscode Unlocker is always here to help you remove Apple ID without any limitation. Anyhow, we sincerely hope you can access Apple ID and utilize various features again.