Since all the albums and songs on Bandcamp need payments to be downloaded, people have already come up with many ways to download the music without payment. Among them, using Bandcamp downloaders is the best way in that it is both convenient and economic. However, consumers may find it hard to figure out which Bandcamp downloader is the best one to choose.
Therefore, our team has done some researches and concluded the 6 best Bandcamp downloaders now available on the Internet. After reading this review, you will know which one is the best one for you.
Standards of Evaluation
Instead of rating these Bandcamp downloaders on our personal preferences, we run these tests on them based on some reasonable standards. First of all, whether the downloader can download Bandcamp music, because no one would want a fraud downloader. Secondly, the sound quality of the downloaded music, since better sound quality provides a better listening experience. Thirdly, the number of formats available. Last but not least, whether the downloader has extra features that can bring us some surprises.
#1. Joyoshare Audio Recorder (Windows & Mac)
Joyoshare Audio Recorder is a powerful and easy-to-use Bandcamp music downloader. It is able to download high-quality music from Spotify, SoundCloud and other websites.
About formats, Joyoshare Audio Recorder provides users with 16 formats to choose from. In the format menu, users can also customize the codec, channel, bit rate and sample rate of the music. The auto-split feature has been proven to be really useful when downloading a playlist or an album.
The built-in audio editor gives you the freedom to customize the tracks. With this tool, you can trim the songs, adjust the sound equalizer, and edit the ID3 tags to archive the songs better. Plus, we also notice that the ID3 tags will automatically be matched during the downloading process. In a word, Joyoshare Audio Recorder is an excellent Bandcamp downloader that we would recommend you use on a daily basis.
For all these reasons, Joyoshare Audio Recorder is the best Bandcamp downloader.
Pros:
Download Bandcamp music with high quality
16 different audio formats for you to choose from
Multi-functional built-in editor to customize the downloaded music
Automatic split feature ensures the download efficiency
Cons:
Payment is needed to gain full usage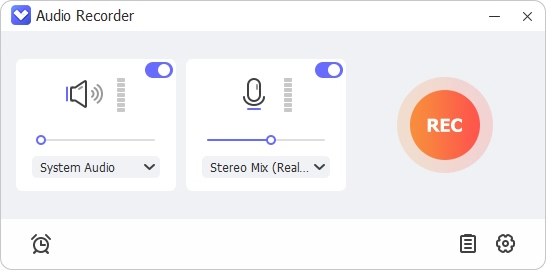 #2. Wondershare Streaming Audio Recorder (Windows & Mac)
All streaming audio recorders can be used as Bandcamp downloaders, and Wondershare Streaming Audio Recorder is one of the most suitable ones. Wondershare Streaming Audio Recorder is a capable Bandcamp song downloader that can record the streaming Bandcamp music with high quality. Its greatest features are that it is able to add the songs downloaded from Bandcamp to iTunes, so that Apple users can enjoy the songs more conveniently. Besides, it provides quite some language options to users from different countries.
The biggest drawback of this software is that there are only two formats available, which are MP3 and M4A. This is also a common problem form most Bandcamp song downloaders.
Pros:
Add the downloaded songs to iTunes
Built-in editor for users to trim the songs
Multiple language options
Cons: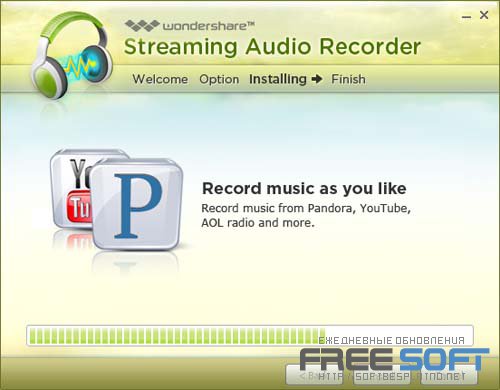 #3. Keepvid Music (Windows & Mac)
Keepvid Music provides great convenience, as you only need to paste the link to download the music from Bandcamp. In fact, Keepvid has its own music collection, in which you may even find the songs you want to download on Bandcamp.
Its unique feature is that it will build a bridge between your desktop, which is used to download music, and your mobile phone, with which we listen to music on a daily basis. With Keepvid, you can transfer the music you download from Bandcamp to your mobile phone easily.
So what about its flaws? Keepvid only provides MP3 as the download format, and there are not many options for users to customize. Besides, the price of Keepvid Music is higher than most downloaders.
Pros:
Simple download procedures
Transfer music from the computer to mobile phone
download music and music video from multiple websites
Cons:
High price
Only MP3 as the download format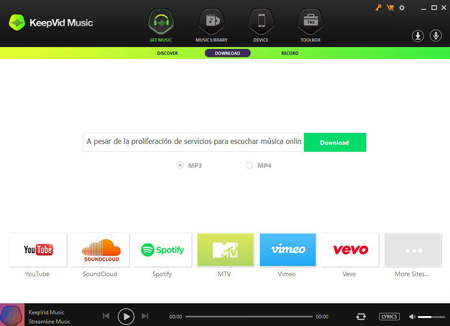 #4. Aiseesoft Screen Recorder (Windows & Mac)
Aiseesoft Screen Recorder is a combination of video recorder, audio recorder and screen capture, which makes it a perfect choice for users who want to download music audio and video files. There are 4 formats for users to choose from, and the sound quality can be adjusted. Though it doesn't give users much freedom to edit the music itself, we still think its customizable UI is praiseworthy. It allows users to change its color, icons and the overall style of the UI.
However, we cannot ignore the fact that you will spend a considerable amount of time downloading Bandcamp music with this software. Plus, for a paid-for downloader, it is disappointing that this program is unable to edit the downloaded tracks.
Pros:
Customizable UI
Combine audio recording, video recording and screen capturing
Cons:
Low downloading efficiency
Downloaded tracks cannot be edited

#5. Localoader (Online Downloader)
Simplest and cleanest freeware we have found among all online Bandcamp downloaders. The page loaded really fast, and all you have to do is to paste the link of the song and press the Downloader button. Unlike most free online downloader, this page of Localoader is free from most of the bothering ads.
However, it is only able to download the MP3 file of the Bandcamp music with comparably low quality.
Pros:
Easy access and easy steps to download
Free of ads
Cons:
Low sound quality
Limited format choice

#6. TubeNinjia (Online Downloader)
TubeNinjia is able to download music from multiple websites, including Bandcamp, YouTube, etc. The downloaded music is of enjoyable quality, though MP3 is our only option, just like in other free online downloaders. And like in other online downloaders, all you have to do is to paste the link of the song and press the download button. Before downloading, you can also stream the song to see if you are downloading the right song.
What brings TubeNinjia to the last one in our list is the nonstop popping windows. While downloading a song on TubeNinjia, you will probably see 3 or 4 windows popping out in your browser.
Pros:
Online streaming before downloading
Free of charge
Cons:

Conclusion
In a word, this review contains 6 best Bandcamp downloaders in the market, including 4 paid-for downloaders and 2 free downloaders. Each downloader has its own strengths and drawbacks, and you should consider which one really suits you and fulfill your demands. After all, the Bandcamp downloader that suits you is the real perfect downloader.