Q: "It says 'couldn't refresh feed' every time I want to view my Instagram profile. Tried restarting my phone, reinstalling the app. Can anyone help me?" – From Quora
As Instagram is a popular social media platform, it is designed for allowing users to share photos and videos with others. It provides a great place to contact with those whom you have difficulty meeting in reality. However, when you attempt to see the newest posts but only to find the error notice "couldn't refresh feed", it is definitely unpleasant for most users. At that time, you must want to know how to fix "Instagram couldn't refresh feed" problem. Luckily, that's what we will discuss in this article. If you are hassled by this problem, you can read the post and search for the most suitable method to get your problem fixed.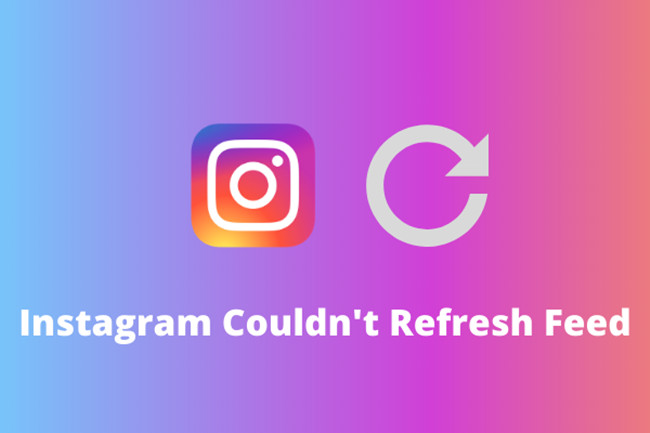 Part 1. Why Does Instagram Feed Not Refreshing?
As people complain that this error frequently occurs when they want to view the latest post, what is causing the problem is stressed and guessed by public. In this part, we list some possible reasons for reference so that you can avoid it in the future.
#1

Network Connection

In general, the primary reason is the poor Internet connection. When the Internet is unstable or slow, Instagram is unable to download and refresh the latest posts and photos. Many people don't realize it as the Internet signal seems to be at a good status. However, actually you can't access to the network at all.

#2

Outdated Version of Instagram

Although Instagram persists in improving service with fewer bugs and errors, there is no flawless thing, and all platforms have their errors. Especially in the older versions of Instagram, it may carry many errors and bugs which is capable of resulting in app crashing at times and leading to the "couldn't refresh feed on Instagram" problem.

#3

Full Cache Files

When the cache files are out of the capacity of Instagram, it may attribute to the refreshing error. Cache files are stored on Instagram often as temporary files on your device. Nevertheless, if the caches are too full to download and refresh any post, it means you need to clear it in time.

#4

Errant Actions

As a matter of policy, Instagram needs to monitor users' actions and restrict their behaviors in a legal scope. If your posts, photos, and comments are judged as inauthentic behaviors, Instagram will block errant actions automatically so that the error notice appears. However, when your account is new, or you comment on too many posts within a short period, it will happen occasionally.
Part 2. How to Fix "Instagram Could Not Refresh Feed" Error
To assist you in solving this issue, I enumerate a series of troubleshooting steps that can be helpful. These methods are based on actual scenarios encountered by iOS users and can fix most basic Instagram problems.
Way 1. Check the Internet Connection
Always ensure that your network is turned on and works well before any operations. You can use different applications to check whether your Internet is stable. For instance, you can open a page in browser. If its loading speed is very slow, it represents your network signal is weak. And then you can attempt to switch different networks or search for better Internet environment.
Way 2. Force Quit and Relaunch Instagram
One easy way to solve minor issues with Instagram is to force close the app and then open it. In this process, it will clear temporary memory, specifically after you use Instagram for a long time. When an app runs too long, it can't bear any extra operation and will cause some errors. You can press the Home button twice to bring up the multitasking view, then locate and swipe up Instagram. Launch Instagram again and confirm the situation of it. Furthermore, you can try to log out of Instagram before you close the app. After running Instagram, log in and enter your account. It probably can help you solve the "Instagram keeps saying couldn't refresh feed" problem as well.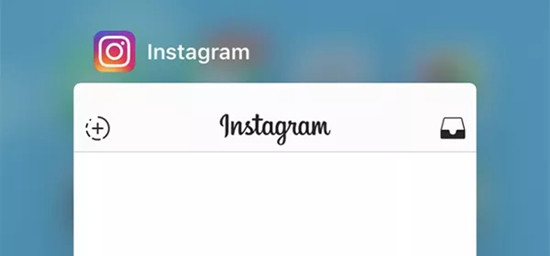 Way 3. Clear Caches
When you use mobile apps, they can produce numerous temporary files saved in your device's memory. These cache files take up lots of space and processing efficiency without carrying any important and valuable information. Hence, we need to clear caches now and then. The total procedure is shown below: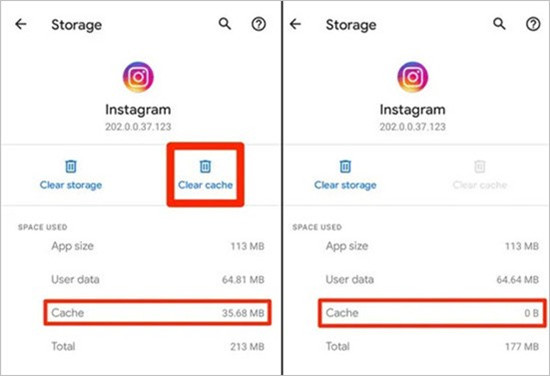 Step 1: Open Settings and find Apps option. Then locate the Instagram app and click on it.
Step 2: Choose Storage option and hit on the Clear Cache tab.
Step 3: Reopen Instagram, log into it and refresh the page again.
Way 4. Update or Re-install Instagram
If the above methods still can't take any effect, another method you can try is updating and reinstalling Instagram. As mentioned in the previous part, an outdated version of Instagram can lead to this issue. So, you should check if you have the latest Instagram. You can update the app by going to App Store. Search Instagram in it. If there is updated version available, click on the Update. Alternatively, you can open settings, select iTunes and App Stores option and then hit on the Updates tab.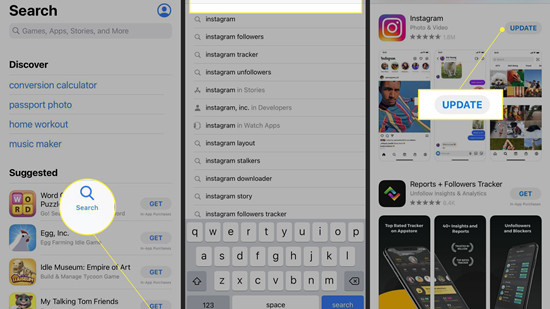 If Instagram is the latest version, you might as well consider deleting and reinstalling it. Just return to the Home screen, press and hold Instagram icon and then choose Remove App option. Open App store and download it once more.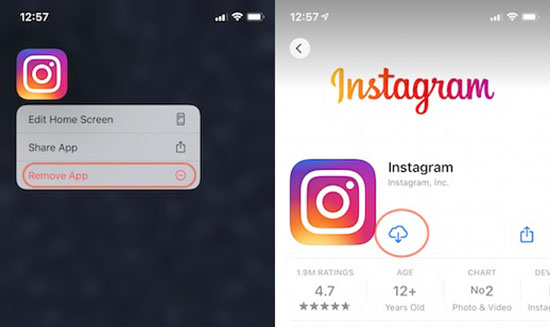 Way 5. Restart iPhone/iPad
There is no better way than restart your device when you come across similar software errors and system issues. It won't damage any data and has no harm to try. So, if you face "couldn't refresh feed Instagram" problem, just restart your iPhone or iPad.
Step 1: Press and hold the Power button until the slider appears.
Step 2: Drag the slider to turn off your device.
Step 3: Press and hold the Power button again. Launch Instagram to confirm whether it behaves normally.
Way 6. Delete Sensitive Posts or Comments
Incorrect content posted on Instagram also may cause the issue. However, most people don't know when they send an inappropriate content. As for this, you need to log into a browser, sign in your Instagram account via website. According to different situations, you can adopt diverse acts.
● Posts: If one of posts you ever sent on Instagram is believed as a sensitive post, you will receive a message to remind you. Then just delete it.
● Photos: If you put a sensitive photo on Instagram, it will show you can't refresh the feed. You should use a new and proper photo to take the place of the problematic one.
● Comments: If there are comments with double hashtag (##) under your post, just delete them and things will ne normal as usual.
Way 7. Contact Instagram Support
If nothing works, what you can do is report the issue to Instagram so that the app developer may fix it easily. You can follow the steps below: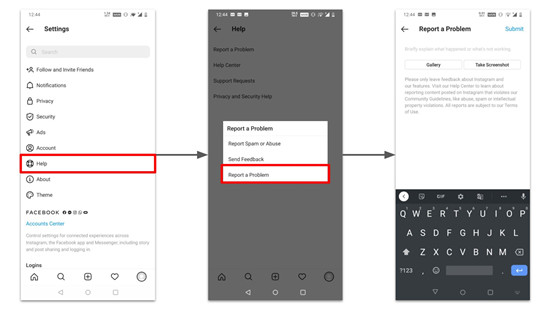 Step 1: Run Instagram, click on your profile and tap the setting icon on the top screen.
Step 2: Scroll down and choose Report a Problem.
Step 3: Insert the issue you are facing and then submit it.
Bonus Tip: Recover Lost Instagram Photos without Backup
If the problem isn't fixed as expected and you have lost significant photos due to this error, you might want to recover lost photos without backup. You can first consider Joyoshare iPhone Data Recovery, which allows you to directly recover 20+ kinds of lost files on your iOS devices, including all lost photos due to Instagram problem. Furthermore, you can randomly view iPhone files so that you can know whether your photos can be recovered freely.
Key Features of Joyoshare iPhone Data Recovery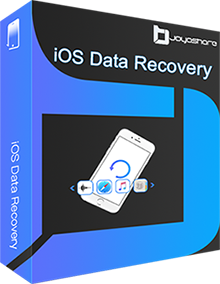 It is designed with three recovery modes to recover data successfully
Free to preview data saved on your device selectively
The process can be completed in simple three steps whatever the types of files
Intuitive interface allows users easily to recover their data on their own
Step 1

Run Program

After downloading and installing Joyoshare iPhone Data Recovery from official website. Launch it and connect your device with computer via Apple USB. Choose the first mode - "Recover from iDevice".

Step 2

Scan Lost Photos

When the computer is recognized successfully, the software will show all supported data types. Choose "Photos" and "App Photos", and then click on "Scan" button.

Step 3

Preview and Recover Instagram Lost Photos

Search for Instagram photos that can be recoverable and you want to retrieve. After selecting the desired photos, you can hit on the "Recover" button to store them on the computer.
Part 4. Conclusion
If you are facing "Instagram couldn't refresh feed" issue, keep calm and try these methods one by one. Hopefully, you can fix the error and get Instagram back to normal status. If you have any needs for recovering lost important Instagram photos, you can attempt to apply Joyoshare iPhone Data Recovery. It can not only retrieve various data files, including recovering deleted Instagram messages and photos, but also perform recovery from iTunes and iCloud professionally.