Q:"Whether there is a way I can use to download videos from Twitch TV? Frankly, this should be a common problem that most of Twitch users meet. So, please give help. Thanks a lot!" – Cheam
You won't surprise why so many users are looking for ways to download Twitch videos if you always hang out on this platform too. Explicitly, Twitch only keeps videos available to play during a certain period of time and followers have to watch favorite channels when they are live. This is the reason why both viewers and streamers are eager to download Twitch videos for later playback, storing on device locally or sharing to personal social account directly. Now, get rid of your confusion on how to download Twitch videos by seeing following must-know approaches.
1. How to Download Twitch Clips Created by Yourself
Generally speaking, Twitch streamers have right to download their own past broadcast videos. However, different account types own different authorization, period of validity varying from 14 to 60 days after first stream initiation. If you pass the given time, your Twitch videos will be deleted completely. In order not to be restricted by this provision on Twitch and let you feel free to download previous videos, we are going to show you quick guide below.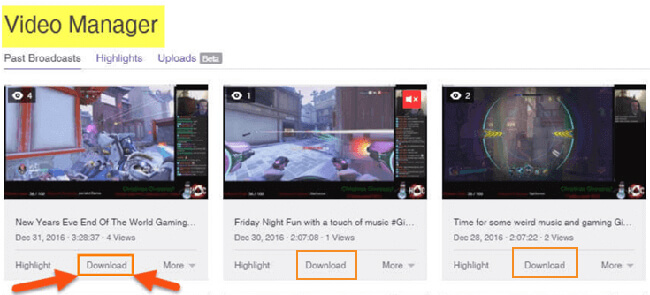 Step 1: Navigate to Twitch official website, tap on the drop-down menu at the top-right corner and choose "Settings";
Step 2: Go ahead to "Channel & Videos" > "Channel Settings" > "Automatically archive my broadcasts";
Step 3: Go for "Video Manager" on the main drop-down menu and click "Download" button to save wanted past videos locally.
2. How to Download Others' Videos with Twitch Leecher
Twitch Leecher is a popular free broadcast downloader that contributes to specifically download Twitch TV videos. By making the most use of it, any videos made by its creators are downloadable. To live up to more expectations, this smart app even makes improvements ceaselessly. Next let's get started to draw support from it.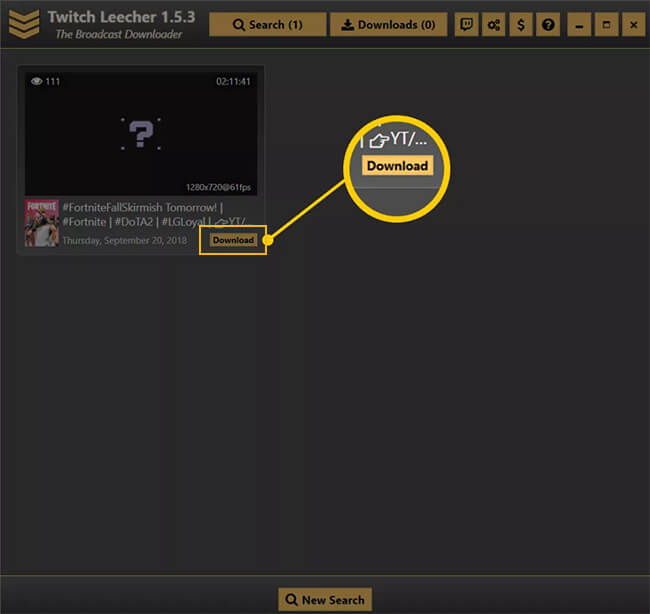 Step 1: Install the latest available version of Twitch Leecher (.exe file) from its official page on GitHub;
Step 2: Open Twitch Leecher and press "Search" option on its top menu bar;
Step 3: Go to Twitch to copy link address of designated video;
Step 4: Go back to Twitch Leecher and select "Urls" tab under "Search";
Step 5: Paste Twitch video link and hit on "Search" on the bottom;
Step 6: Click the "Download" button located on the selected Twitch video;
Step 7: Press "Download" button after confirming related settings.
3. How to Download Videos from Twitch with Screen Recorder
Provided there is no forthright way to download Twitch videos directly, you can consider a recording tool, such as Joyoshare Screen Recorder. It is specialized in capturing all ongoing videos in high quality, including gameplays, webcam, movies, tutorials, podcasts, etc. Most important of all, audio can be synchronized with video with ease, such as system sound and microphone voice. It's time to see how it performs.
Step 1

Confirm recording mode on Joyoshare

Simply launch Joyoshare Screen Recorder if you have downloaded and installed it in advance. Click "record video and audio" button to the right of the red "REC", which works as a video recorder to capture video from Twitch.

Step 2

Finish choosing recording options

Go forward to "Capture Area" to select a recording area. Hereafter, press the "Gear" icon at the lower right corner to unfold hidden settings. You can enable system audio/microphone sound, change storage location, create scheduled task, customize format parameters, add image watermark, spotlight cursor movements, etc.

Step 3

Begin to capture Twitch video

Go to Twitch website to get desired video ready. Click on the "REC" button and play video at the same time to start recording it, during which you can skip needless content, cut recording and take snapshots in your own way. Get down to managing finished videos with "Edit" feature on "History" after your recording process comes to end.

If you find anything confused regarding how to download Twitch videos, you can check the following instructional video we make for you to figure out how to use the program.

See Also: Record a Twitch Stream