Although listening to music online is convenient, it is easy to be affected by network and the device. For example, if you would like to enjoy songs from the computer, you have to stay at home or somewhere a PC exits. Therefore, offline music appeals people more. Unfortunately, most of websites support you to download songs only if you pay for them. These platforms include SoundCloud, Deezer, Pandora, Google Play Music, Tidal, Slacker Radio (now called LiveXLive).
Most of music fans are keen on LiveXLive. But this platform only allows users to listen to the songs online without payment. If you are crazy about listening to music offline, what measures would you take?
You may look for some special tools to download your favorite music from LiveXLive. Here will recommend you a way to download LiveXLive songs for free.
Part 1. Some information about LiveXLive
LiveXLive is a popular platform to provide streaming music, featured podcasts and live videos. In addition, you can listen the Internet radio, which offers millions of songs and amazing stations. What's more, you can build a totally personalized station of some specific artists. You can manage your stations, such as rating songs you are fond of or banning some artists. When you search a singer's name, LiveXLive will show you the stations, albums, videos about her as well as her songs.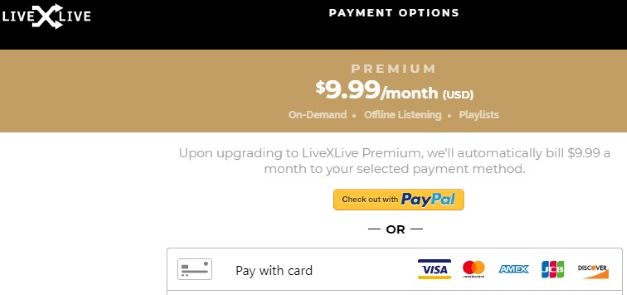 Free users cannot download any stations, playlists or songs. But you can upgrade to LiveXLive Premium member to download music($9.99amonth). LiveXLive PLUS numbers can only download stations, albums, playlists, songs via the supported Android, iOS or Windows Phone, not including LiveXLive website.
If you are keen on LiveXLive and enjoy offline music, I will recommend you a way of downloading music from website for free in next passages. You can change the songs' formats as you wish and the put them into some handy devices, such as MP3 player. In this way, you can listen to the music anytime and anywhere. Here a LiveXLive music downloader comes.
Part 2. The method of downloading music from LiveXLive for free
Joyoshare Audio Recorder, is an extraordinary software to capture voice from streaming music, live broadcasts, radio stations. In the exception of being a music recorder, you can cut, edit audios. Joyoshare Audio Recorder supports many kinds of common output formats, including MP3, AAC, AC3, FLAC, M4A, OGG, WAV, WMA. Of course, you can edit playlists and ID3 tags with convenience.
Joyoshare Audio Recorder can grab all the voice detected on PC, including that form system sound card, microphones and even external input device. In addition, it can also capture the sound from Chrome. After completing the recording, you can easily edit the audios with inbuilt editor and cutter.
Via this tool, you can easily record music from LiveXLive with 4 simple steps.
Key Features of Joyoshare Audio Recorder:
Support 16 output formats
Record and download high-quality LiveXLive music
Easy to use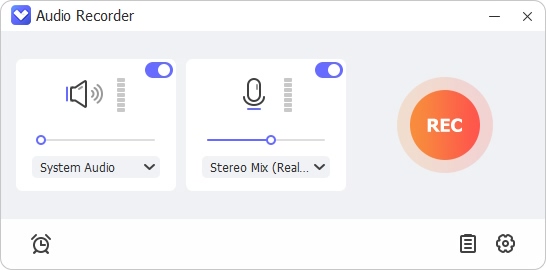 Step 1

Run Joyoshare Audio Recorder

First, download Joyosharefrom the official website, install it as the guide, and launch it.

Second, you can see the window as follows. Click the button and choose the System Audio as the input source.

Step 2

Select the output format and preset

Click the button from the lower left corner. You can select form 16 output formats. Other settings are allowed to be changed as you want, including bit rate. As for the preset, high quality or small size, you can pick one fitted for your needs.

Step 3

Start to capture and download music from LiveXLive

First, open LiveXLive website and sign it up.

Second, pick your favorite songs. But please don't play it instantly until the third operation.

Third, click the red con and then play the song you pick. It is a key step to record and download LiveXLive music. Don't worry about the silent parts before the music playing. Joyoshare Audio Recorder offers you the inbuilt trimmer and editor.

After this song being done, click the white button (Stop Recording). You can see your music appears on the top. If you wonder to download more music, repeat the steps above. On the left side, you can view the PLATLIST. PLATLIST allows you to establish your own music lists and put into the songs in the same type.

Step 4

Trim and edit the downloaded LiveXLive music

First, trim the needless parts, such as the beginning and ending parts without voice.

Second, adding the sound effect is supported.

Third, fix ID3 tag. This section includes the song's title, album, artists, composer, etc. What's more, you can also upload a picture as the cover.
The bottom line:
Becoming a LiveXLive member, you can download some songs from supported devices but not website. And $9.99 provides you the privilege within a month. Joyoshare Audio Recorder not only supports you to download unlimited songs in your lifetime, but also allows you to cut and edit voice. Most importantly, except recording music from LiveXLive or other streaming music website, you can download any sounds from other source, such as BBC news, online conferences, live broadcasts, audio chats, narrations, internet radio webcasts, etc.