Q: "Hi there, I've got the 12 Pro Max and yesterday started using triple back tap for screenshots and double back tap to lock the phone. Suddenly today for no reason it's not working. Any assistance would be amazing. I have turned the phone off and on, updated to today's update, and turned back touch off and on but still nothing." – from Apple Community
Back Tap could be enabled by double/triple tapping on the back of your iPhone, and you have a chance to customize this feature to open Control Center, take a screenshot, lock screen and so on according to your own habits. Although it is hard to avoid mistakenly tapping, Back Tap makes your life more efficient. Therefore, it would be frustrating when you found iPhone Back Tap not working. In this article, you will get an explanation of why it can't be operated well, and the solutions to fix it.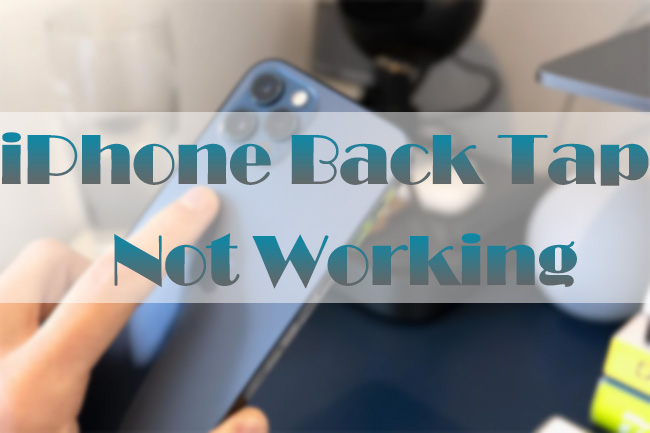 Part 1. Causes of Back Tap Not Working on iPhone
Since the Back Tap not working issue rarely happens, the causes that trigger it are finite. Thus, you could learn about the reasons listed below on your own to troubleshoot your device.
Device incompatibility. Back Tap is only supported on iPhone 8 and later models.
Settings errors. You may forget to enable Back Tap on settings, confuse the double tap and triple tap, or choose another action rather than the one you need.
Inappropriate case. If your iPhone case is thick or rugged, your tapping cannot be recognized correctly.
iOS system problem. Only iOS 14 and later system versions possess the Back Tap feature. Meanwhile, this badly-operating feature may result from any software glitch.
Part 2. Solutions to Fix iPhone Back Tap Not Working
Solution 1

Check If Back Tap Is Supported

First of all, you need to make sure that the Back Tap feature is supported on your device model. As explained before, this function only runs on iPhone 8 and later devices, and your iPhone must install iOS 14 or later software. If you are using iPhone 7 running iOS 14, the Back Tap still can't be applied. These two conditions need to be satisfied at the same time, otherwise the Back Tap will not work.
Solution 2

Adjust Back Tap Settings

Your wrong settings on Back Tap will trigger its operating failure, so it is needy to remedy the settings. Go to Settings, scroll to Accessibility, find Touch and locate Back Tap. Here are two options for you – Double Tap or Triple Tap. Choose one of them and tick None. Then do the same for the other option. Now the Back Tap feature is disabled, and you could exit Settings or restart your iPhone so as to give it a refreshment. After that, come back to the Back Tap screen to enable this function again. You could select any action you need on Double/Triple Tap.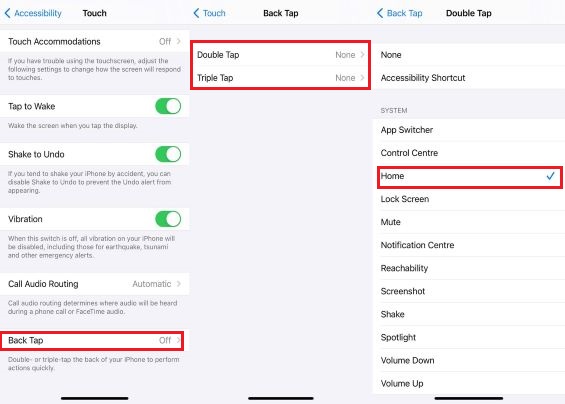 Solution 3

Take Off iPhone Case

The original iPhone case has the potential to interfere with your double or triple taps, not to mention the thick, uneven case. So, whether you're using the original case or not, remove it from your iPhone. Then, double or triple tap the back of your iPhone to check if Back Tap works again.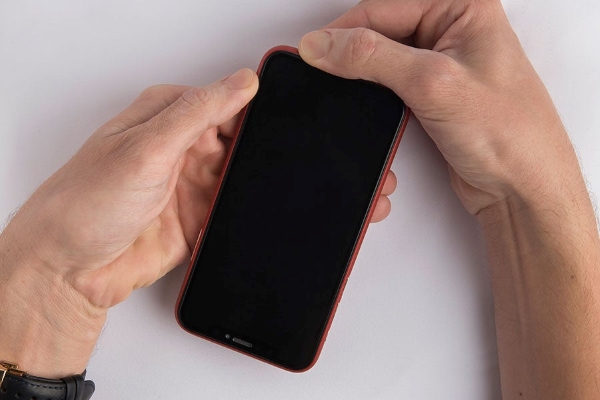 Solution 4

Update iOS Software

As mentioned from the beginning, if you are running iOS 14 or earlier software, you cannot enable Back Tap. Also, the outdated system exists different unknown errors, therefore, it is recommended updating your software to the latest version. Head to Settings, tap General, choose Software Update, and hit the Download and Install button to update your software. Then, you could set up the Back Tap feature, or go to check if this problem is settled.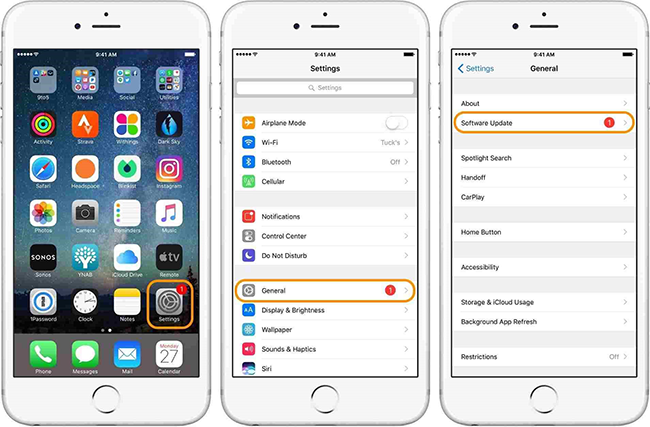 Solution 5

Force Restart iPhone

In case the foregoing mild solutions cannot fix the disabled Back Tap, you'd better take the following thorough and effective methods. Force restarting will bring a deeper refreshment to your device. Here is how to do it.

Press and release the Volume Up button, press and release the Volume Down button, hold the Side button for seconds, and release it until you see the Apple logo. After that, wait for a few minutes and then do the same procedure to turn on your iPhone.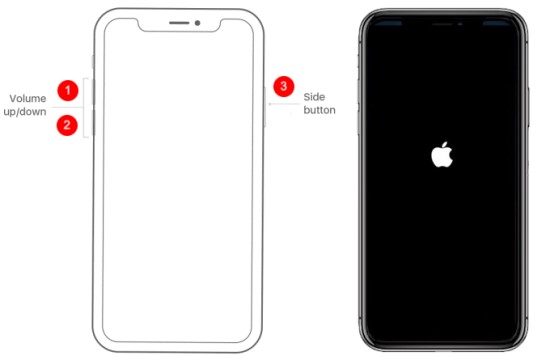 Solution 6

Reset All Settings

It is hard to troubleshoot what the exact trigger is even if you adjust the settings of Back Tap. In this case, resetting all settings on your iPhone would be helpful. Navigate to Settings as well, tap General, scroll down to Transfer or Reset iPhone, select Reset, choose Reset All Settings, and confirm your action. When your iPhone turns on, go to Settings to re-set up a new action for Back Tap.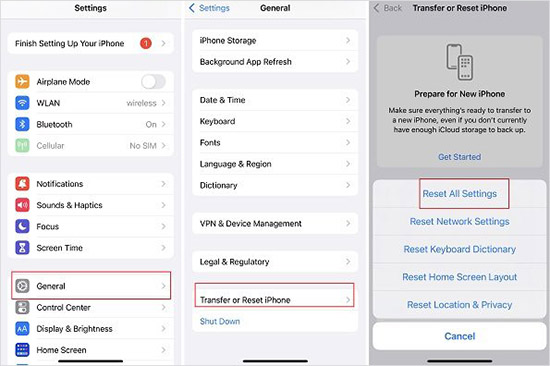 Solution 7

Repair iPhone Back Tap

Once iPhone Back Tap is still not working, it's time to consider that your device is influenced by severer system errors. If so, you could ask Joyoshare UltFix for assistance to repair your iPhone software. This program is specifically designed to fix system problems on iOS/iPadOS/tvOS. More than 150 problems, like iPhone Tap to Wake not working, iPhone black screen, iPhone stuck on the Apple logo, etc. are able to be fixed within several steps. Especially, the standard repair mode will not cause data loss when you repair your device system. Furthermore, you could take advantage of Joyoshare UltFix to downgrade the iOS system, enter/exit recovery mode for free and reset iOS devices.

Key Features of Joyoshare UltFix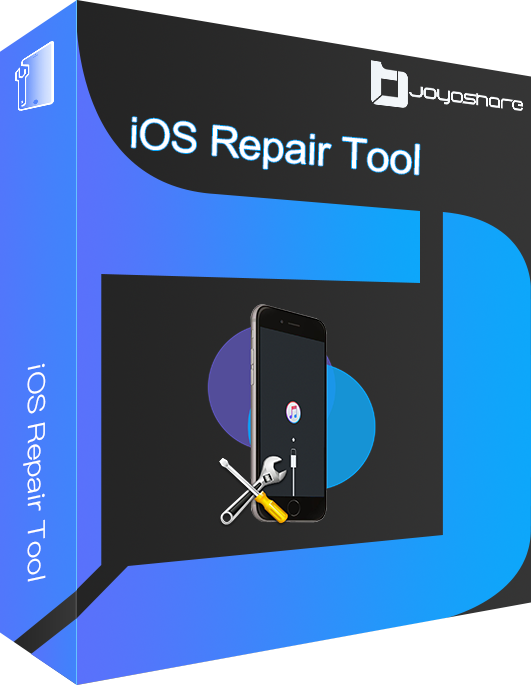 Standard repair system errors without losing data
Compatible with all models of iPhone/iPad/iPod touch
Upgrade/downgrade iOS to the previous version
Free to enter/exit recovery mode with one click
Step 1

Connect iPhone to Joyoshare UltFix

Install and open Joyoshare UltFix on your computer, and plug your iPhone into the computer. Choose iOS System Repair and hit the Start button.

Step 2

Select Standard Repair Mode

If your iPhone is recognized without hinder, click the standard repair mode and you will be guided to the next step. On the contrary, you have to put your iPhone into recovery mode or DFU mode by following the on-screen instructions. After that, you could also get into the next step.

Step 3

Download Firmware Package and Verify It

Detailed information about your iPhone will be displayed on the screen, you could remedy it if it's incorrect. With your confirmation, click the Download button to get the matching firmware package.

Step 4

Repair iPhone Back Tap Not Working

When the firmware package is verified successfully, you will see the Repair button. Click it and Joyoshare UltFix will start fixing your iPhone system. As soon as your device restarts, you could set up Back Tap again on Settings and see if the problem is solved.
Part 3. Summary
It's not a big deal when you come across iPhone Back Tap not working as this article shows you explanations and 7 solutions. If you have read this post carefully and done the methods accordingly, I suppose that the Back Tap feature has come back to its normal status. If you haven't tried Joyoshare UltFix to fix the malfunctioning Back Tap, I recommend it to you. With its standard repair mode, iPhone could be fixed with no losing data. However, if Back Tap still doesn't work, you need to go to Apple Store to see whether there is a hardware problem.